The New Virus on the Block: Coronavirus
For students, teachers, and parents alike, anything that ends with "virus" is enough to induce fear and panic. 
In light of recent events in Wuhan, China, it isn't totally irrational to be afraid. In fact, WHO ([the] World Health Organization) has declared coronavirus a global emergency. However, before crying apocalypse, it's important to take in all the facts of the new SARS (Severe Acute Respiratory Syndrome) Coronavirus. 
First and foremost, it's important to understand that the Coronavirus, as it currently stands, has mostly affected people in China and, more specifically, residents of Wuhan. Hundreds of people across multiple health organizations, such as the CDC (Centers for Disease Control), are working around the clock to find a cure or immunization, and it's likely one will be found before the end of February.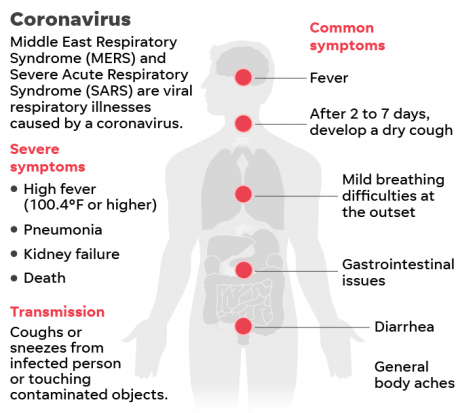 It's important not to take it too easy; 425 people have now died and 20,000 cases of the virus have been confirmed in China according to thehill. Even more alarming, cases have been reported in over a dozen countries, with eleven cases now being located in the US according to livescience.
Most students at Rangeview, however, remain unafraid of the virus.
"I think it's just another virus I don't really care about, and I don't think it's going to go far," Sophomore Adolfo Flores, said, hinting that this virus won't be any more serious in the U.S than the 2014 Ebola scare.
However, some students still remain a bit fearful at the possibility of a widespread virus. Sophomore Angelia Griffith, said, "Sometimes I'm scared that it could get worse, but I don't think it'll be something to go super crazy about. But, I'll still be very cautious."
It's usually good to keep a healthy amount of fear when deadly viruses pop up, but don't go planning your funeral now; as Sophomore Peter Garduno said, "It's crazy, but I don't think it will last long, like Ebola. So, I'm not really scared of it."
With a cure still unfound and more deaths likely to come, it is still unlikely that this virus will amount to anything more deadly for most people than annoying and overused memes.