Starting the School Year Online
The past few months have left students and teachers with uncertainty and confusion as to how the school year will look like due to the current pandemic.
Throughout the summer, schools across the country set up plans to either have students return in-person for school, or have classes online. Starting on July 1st, APS families had the option to choose between these different learning styles.
 According to the Colorado Sun, "Superintendent Rico Munn had planned to tie the district's restart plan to public health metrics, an approach other districts have used." This meant that as long as COVID transmissions were not increasing, in-person learning through cohorts would still be possible. 
While Munn wanted to hold off on looking at the numbers until early August, Board members, "took over the decision, ordering that Aurora start the school year remotely, regardless of those measures."(The Colorado Sun). It was officially announced on July 24th, that all students in APS will be remotely learning for the first quarter of the 2020-21 school year. 
Rangeview math teacher, Cheryl Wetzel, acknowledges APS and their decision by saying, "I believe that our district did as much research as possible, trying to find a model that when, if we are able to return to in-person learning, it would be the least risky model." While she agrees that it was the safest option, she notes that "It is somewhat overwhelming trying to engage one group of students for 3-hour blocks of time." 
For some students, like Senior Kayla Luong, having remote learning is not a bad option. She says, "Online school can be frustrating at times with not being able to see friends and having fewer opportunities to do activities that are hands-on…so far I don't really mind having online classes since I have been enjoying doing schoolwork at home." 
Since students are used to going to multiple classes in a school day, the transition to three-hour classes certainly takes a toll on classroom interaction. Teachers received support during the summer so that they can go into the school year with a better foundation on how to tackle prolonged class periods.
 "To prepare for remote learning, the district and Rangeview High School, provided several days of training on many different platforms that can be incorporated into remote learning." says Wetzel. 

A few examples of such platforms include: Google Classroom, Google Meets, Kami, Screencastify, Flipgrid, and Peardeck. Over the past few weeks teachers have had the chance to use these tools to engage their students in learning, however, there are aspects of in-person learning that can never be replaced online.
CCA English teacher, Sarah Gasior, says, "I can't read body language or facial expressions; it is hard enough to monitor a chat and do my teaching. I am pretty intuitive and not being able to know how my students are reacting is really frustrating." 
For many teachers like Gasior, seeing students face-to-face is crucial to each class. In a typical in-person classroom, teachers can read if students are confused about a topic based on their facial expressions. However during an online class, unless students turn on their cameras, teachers have no way of knowing if students have their full attention to the lesson. 
This first semester is split up into 4 sessions in which students go through every class for 20 days. Gasior teaches multiple semester-long CCA English classes such as Composition and Literature and while she notes that as teachers they are trying the best that they can, she expresses her concern by saying, "I worry that my students will be missing out on vital learning because I have so little time with them." 
Covering a large amount of content in the span of a few weeks can also be a lot for students. Ms. Wetzel, who teaches AP Calculus and Statistics says that for math classes, "We build our lessons on what was "learned"  from the previous day…if [students] don't take the time, or have the time, to process that information before the start of the next class, it is difficult to make sense of the concepts and the following days more and more overwhelming." 
Regardless of the rigor for each class, adapting to the new learning environment has its ups and downs. 
 Luong keeps an optimistic tone by saying that, "keeping a schedule such as waking up at a regular time, making sure I take breaks when I need to, and talking to my friends to keep me in a positive mindset keeps me going."
 Students are allowed to take breaks in between classes to have time away from the screen which students like Kayla appreciate, being that many students have both AM and PM classes amounting to 6 total hours on the screen. On top of that, students can run into technical problems when trying to connect to a meeting making it difficult to grasp content.
 Freshman, Hayley Hanson, openly states, "I've had some panic attacks especially when my internet cuts out and it kicks me off the meeting and I miss something."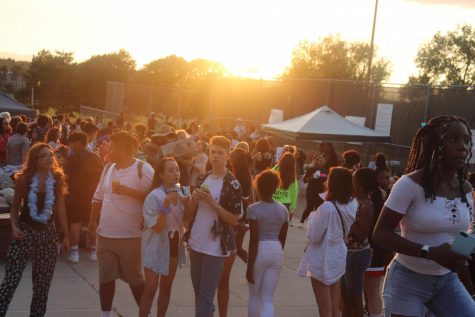 Although online learning isn't running smoothly for some there's hope that the rest of the school year will turn out better. Big events such as Freshman Orientation and Back to School Night have been hosted virtually, while other Rangeview traditions such as Homecoming have been postponed. Students are not losing hope in celebrating these traditions later in the school year. 
Hanson being a freshman, says, "I am definitely looking forward to Hoco week, meeting everyone in person, and taking my first step into Rangeview as a freshman." 
Similarly to freshmen, Rangeview seniors will have to adjust to untraditional events as they go through their last year of high school. Luong says, "It would be cool if homecoming and prom are still going to happen. I am also hoping that the senior sunset is something that is going to happen."
Teachers are well aware that not all students are handling this new learning environment as well as others. Tackling freshman, sophomore, junior and senior year online isn't always going to be easy. "We want you to be successful and feel like you are getting a rich educational experience. Please communicate with us and let us know what works and what doesn't," says Gasior. 
Although the school year may not start like many have expected, it's worth noting that this transition is not taken lightly. Staff and students alike are still adapting to their classrooms and while the future of the school year is not certain, it's not bad to hope for good things to come.