Working During a Pandemic
Various students around Rangeview hold many jobs, ranging from retail to labor. Any way teenagers can make money, they'll do it. However, once the pandemic hit, many of them were either laid off or had the opportunity to work during COVID-19. The experiences have varied from each job — they're all different; with each experience comes different outcomes for all of the staff.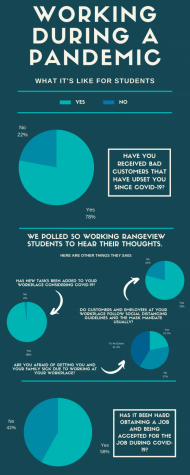 One of the common places people have worked is in restaurants or food places. Take this from Junior Darline Washington, who currently works at Papa Murphy's. Alongside the regular tasks Washington has to do — likewise, everyone in the working industry — more has been added due to the pandemic. 
According to Washington, "Now, we have to require everyone to have masks on or we have to deny them business; everything we or our customers come into contact with, we have to clean immediately after." 
With Jared Polis' mask mandate alongside the social distancing procedures, workers have had a lot on their plate, keeping up with sanitizing and enforcing the law. However, sometimes enforcing is not as kind as it seems. Customer service is toiling as is, so how about the good and the bad customers?
Hands-on jobs such as lifeguarding are challenging, and are also at high-risk working during this time.
Junior Mackenzie Mayotte said, "The [customer service] experience has been weird because some of the people are very calm and understanding about it, but other people are mad that they have to make a reservation online [in order to swim]," 
From an outsider's perspective, going through the effort to make reservations and following procedures may seem a bit challenging, but that isn't the only thing customers have been complaining about. 
"A memorable experience was when a man who was swimming laps was asking about the indoor pools and then suddenly snapped at me about the pandemic and how the city is overreacting with our policies," Mayotte recalled. 
According to a study among Rangeview students, 78% of students that have worked during the pandemic have reported that they have received some sort of bad customer during their time working through the pandemic that upset them. But, that's not all: some students don't feel safe working at times.
Senior Mary Brungardt, who works at Hobby Lobby, has had an easier time working there, since "our customers are mostly older people who are more at risk", and it's generally less busy. This doesn't mean that Brungardt herself feels entirely chipper about working during this time.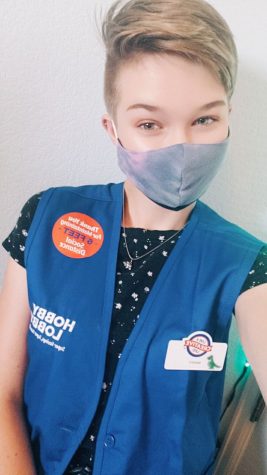 "I've definitely been a bit more anxious because of how many people I interact with daily, but I've just been taking care of myself to make sure that me and my family are safe," Brungardt said.
Working during a pandemic is something bold and brave, serving other people even though the risk is high. Especially for essential workers, who sacrifice their well being to tend to others. 
For the students who would like to be bold and brave, one would think that finding a job during a pandemic is easier than you'd expect. However, this is not the case. 
While locations such as Walmart or Amazon have been quickly hiring people with little to no experience — for people who don't want to work at those locations — it's been challenging to find a stable place to work. 
Another question on the study among Rangeview students asked them who applied/are still applying for a job during the pandemic: What is their acceptance rate like, and is it hard to find a job?
58% of students answered yes. Meaning, while jobs are seemingly open and begging to be taken, students have a hard time being accepted for these jobs. It may be an issue with experience but during a pandemic, a student's likelihood of getting a job may be higher.
Appreciate the people who are working during the trying times, who put their all to make sure you, your family, and likewise theirs, are safe. Students have to balance working, school, and a totally unexpected pandemic at once. Their contributions don't go unnoticed.