"New New" Gets Buckets
Ny'Era West, also known as "New New" is a sophomore guard at Rangeview High school. She is returning for her second year as a starter on the varsity squad and has been straight up balling. Last year, only as a freshman, she averaged 11.8 points, 5.7 rebounds, and 3.3 steals a game.
The Lady Raiders have gotten off to a pretty decent start this season with a 7-4 record, and are currently looking for an 8th win after suffering a loss against Thorton in a tough battle. The score was 48-45.
Although she is only a sophomore, she continues to motivate many people including her younger sister Naja'Ray West. Her sister said "My sister motivates me in many ways, especially on the court. Her work ethic and her strive to be great are going to be forever motivating."
West leads by example and lets her game speak for itself. Sophomore A'mya Winfrey was asked about what her fellow teammate Ny'Era brings to the court. Winfrey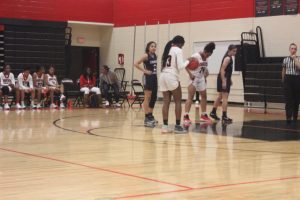 said, "She leads the team by having good energy and making us laugh when we need it."
Winfrey believes that Ny'Era's presence is always felt on the court. She went on to say that, "She also dominates on the court by pushing herself to the limit and doing what she does best." This just proves that Ny'Era's overall work ethic is what makes her such a great player.
West believes that her best qualities are her ability to score and her defensive drive. She said "Of course my scoring and my defense are some of my qualities, but I think my sportsmanship and the way I bring people up are my best qualities." New New was also asked about what she needs to improve on and she said, "I think I really could improve my game mentality by not getting into my head too much." 
The season is continuing to progress. The Lady Raiders are going into their 12th game of the season in which they will be taking on Westminster today at 7:00 here at home. Make sure to tune in.
Go check out their MaxPreps page.