Welcome to Raider Family Mr. Dixons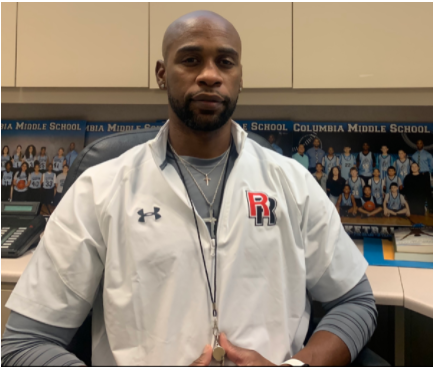 As the 2021 football season came to an end and with the Raiders head coach Mike Holmes resigning, the Raiders were in need of someone ready to make a change. Well it wasn't for long that the Raiders went without a coach. Christopher Dixson is ready to make a change in this Raider history. Coach Dixson didn't plan on being a head coach for a high school team, but when the job opened up at Rangeview he knew it was just right for him. He's ready to make a mark and make an impact for the Raiders. When he was asked about developing a game plan he got straight to the point. He stated that, "I will scout the opposing team and develop a plan based on what to expect, then develop strategies into specific objectives then we will execute".
Mr.Dixon was born and raised in Jackson, Mississippi. For a portion of his life he played basketball, football, track, cross country and he played baseball all while being a high school student. Now that is someone you call a student athlete! Coach Dixson then went on to play football and basketball at a community college where he was able to receive a scholarship offer from the University of Wyoming where he was named a 2x All-Conference Defensive Back. Coach Dixson stated that he had some NFL try-outs after college that he attended but things just didn't go as planned. Coach Dixson is now working in the Psych-Department at Children's Hospital as a counselor and is a Student Liaison/Coach at Columbia Middle School. Dixon enjoys spending time with his family and friends while sitting on his patio, smoking some chicken on his smoker.
No one is perfect, we all have our ups and downs. Coach Dixson was asked about his biggest career failure. His response to the question was, "I wouldn't say my biggest career failure but more along the lines of biggest regret is not really putting forth the effort to continue my football career after college." Dixson is really excited to be a part of the Raider nation and we can't wait to see what he has in favor for us. "In all honesty, I wouldn't change anything about my career choice. I enjoy my co-workers, the support from the community and the kids that I work with here at Columbia and Children's Hospital. Coach Dixson eventually plans on coming to work at Rangeview but for right now he plans to continue his career at Columbia because a lot of the kids that attend Columbia tend to end up attending Rangeview.
Dixon plans on making an impact on there's players life not only on the field but off the field. He plans to be an impactful role model for his players to look up to and he can support them in any way he can. He says, "I get excited about the opportunity to play a vital role in a player's growth and maturity on and off the football field. The biggest words for me after coach kids that have moved on is, "thanks coach!" Dixson is coming to change the Rangeview narrative and build a legacy for someone one day to eventually make an impact on these players like he will. We are excited to see how Coach Dixson will change the game for these players