Class of 2020 Females Spectacular Six Athletes
Sierra Hunt by Vivian Tran
377. That's how many kills varsity team captain Sierra Hunt had when she broke the Rangeview record for kills made in one season. 
With all of her remarkable athletic accomplishments, such as being on varsity all 4 years and earning 1st Team All-Conference as a junior and a senior, it's no wonder that she will continue her volleyball career at Colorado Mesa University while pursuing a nursing major.
Hunt has been playing volleyball since she was 5 years old and became a club player in 7th grade. It was then that she knew she wanted to follow in the steps of her older siblings and eventually play at a collegiate level, saying that growing up watching them had sparked her own eagerness to play.
With a close-knit family of 5, Sierra states that the Hunts are incredibly supportive of her volleyball career, whether that means commuting to Colorado Springs for practice or constructing makeshift training equipment to help Sierra practice at home.
 "They've shown me how far I can push myself, and have been there for me every step of the way," Hunt says.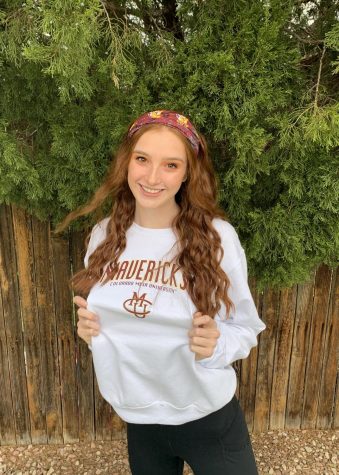 Someone else that's had the most impact on her life is club volleyball coach, who says that,
"Sierra is exactly the teammate–athlete and person– coaches dream of." Tierney Dowling, who coached Hunt for a year as apart of the Colorado Juniors Volleyball Club, explains how she always brings 110% into anything she does and how she's a positive role model, "As a person, Sierra is exactly what I want my kids to be; hard-working, humble, happy."
Hunt's natural gift for the sport is undeniable, but she worked incredibly hard to get there and is "constantly attributing her success to others," explains Coach Tierney.
This killer combination of hard work, dedication, optimism, and raw talent is what makes Sierra Hunt someone to watch out for on the court. Although she's dangerous for her opponents, she's definitely someone you want on your team. 
"Sierra is a super sweet and bubbly person to be around. She's always so happy and I think it rubs off on people, honestly," says close friend and teammate, Leslie Garcia.
Garcia, who met Hunt the summer before freshman year at a volleyball camp, explains that the two never get mad at each other, and although she isn't the type to lose her cool, sports always come with frustrations. However, Sierra Hunt is able to turn this vexation into even more power on the court,
"When she gets mad she can really go up and hit the ball hard. It even scares me and I'm on the same team as her," says Garcia.
Aside from volleyball, Hunt has definitely made her mark as a Rangeview Raider. During her time in high school, she was involved in NHS and student leadership.
As her own time at RHS comes to a close, Hunt has a message to all future Raiders and those apart of her high school journey, 
"Take advantage of any opportunities that you are given, and do not take anything for granted. I also just want to say a huge thank you to all the RHS faculty and all the people who have supported me over the last four years."  
Hunt Explains that she's uncertain of what her future may hold in regards to sports, but that she'd love to be a coach.
Although she may not know where her volleyball career will lead, one thing is for sure: Sierra Hunt is not only a sensational athlete, but a hard worker, an amazing teammate, a supportive friend, a positive spirit, and a phenomenal person.
Jasmine Johnson by Alexis Drummond
To Jasmine Johnson, swimming is more than just a sport; it's a second home a happy and calming nature for her.
"Being in the water always calms me down and makes me happy. I honestly don't know where or who I would be without it."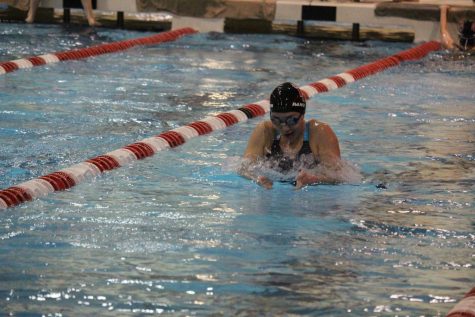 Johnson has been competitively swimming for nearly ten years on multiple swim teams including the Rangeview swim team for all four years of high school.  
"I started with a recreational team called Sea Dragons until I was about 11 where I moved to a competitive team called Macs," said Johnson. "When I was 16, I moved to a different competitive team called Aquawolves."
In her time swimming for Rangeview, Johnson has broken four school records, one league record, and had qualified for state all four years. Freshmen year she broke the school record for the 200 individual medley (200 IM) with a time of 2:16.42 and the league and school record for the 100 breaststroke with a time of 1:10.57. Junior year she broke the school records for the 400 freestyle relay with 3 other swimmers with a time of 3:56.57 and the 100 butterfly with a time of 1:04.23. Senior year she broke her own 100 breaststroke time for the school and league record with a time of 1:10.37.  
When Johnson wasn't as a Rangeview swim practice, she was swimming with her other competitive team. Balancing the two teams plus her school work pushed her to great lengths. 
When asked to describe Johnson, head swim coach Peter Gerard described her as "a very focused, determined, competitive, humble individual."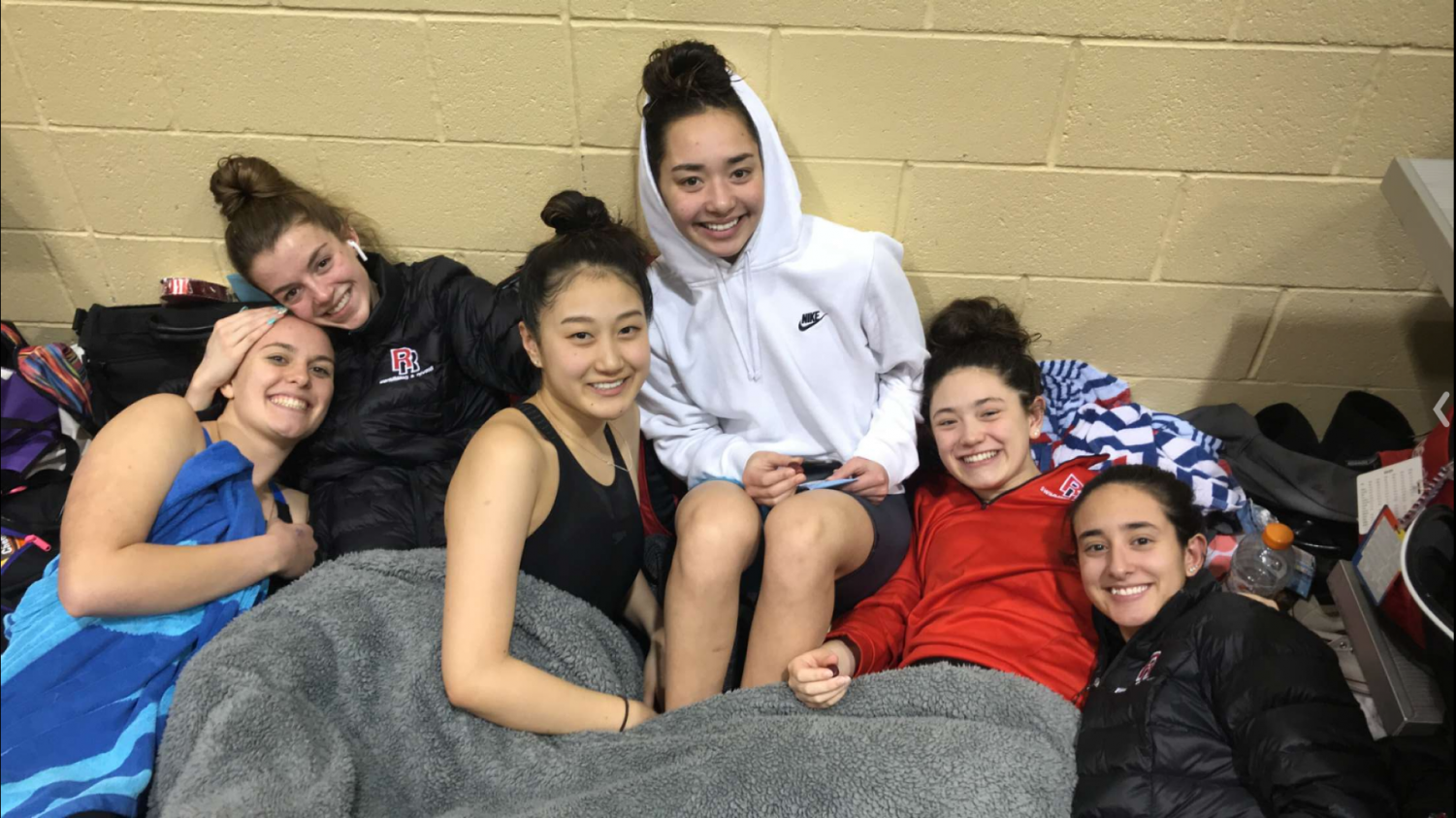 Throughout her high school career in swimming, Johnson has been a leader to her fellow swimmers and has created a family with the team. 
"She first made me feel apart of a family when she decided to sing the national anthem with me at the intrasquad meet," said junior Marissa Chambers. "Then she would always be really supportive of mine and the other girl's races." 
After the 2020 season, Johnson has made the tough decision to quit swimming. Johnson's plans for her future consist of her only focusing on her school work to become nurse. 
"After high school season ended I made the decision to quit swimming, although I do miss it a lot. I'm going to go to the University of Northern Colorado for college and study nursing there." 
As Johnson graduates and moves on to follow her dreams of becoming a nurse, she leaves one piece of advice for everyone: 
"My advice to others is to always believe in yourself and not stress so much about things because if you want it, you'll get it. Trust the process and trust things will work out the way they're supposed to and hope they'll be in your favor."
Katiana Williams by Myriam Alcala
From playing softball on the high school and competitive level to being a varsity track star, Katiana Williams has made a name for herself as one of the most noteworthy student athletes in the senior class of 2020.
"I was originally involved in baseball …. I switched to softball when I was 11 [and] was just in love with the sport," Katiana Williams said in an interview. "I never saw myself in [track] but I promised my brother … I found a love for it and it trained me for softball."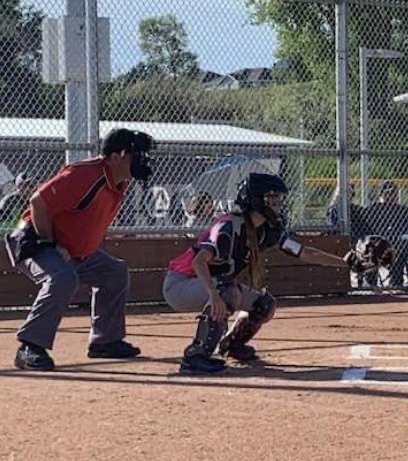 Katiana was on Rangeview's varsity softball team for all four years and made first team all-conference in the sport. Katiana also ran track for three years; also, she joined the Raider Review staff sophomore year as a reporter then eventually became the Sports Editor. 
Katiana poses with her family; Williams has been involved in a law enforcement explorers program since June 2018 and plans to pursue law enforcement in the future. (photo provided by Katiana Williams)
Carhart's favorite thing about Williams is her humor and "ability to lovingly annoy" him all the time. He also spoke on her wisdom and strength despite the adversity she faced in life. 
When asked about her performance as an athlete, Carhart said, "Katiana is fearlessly competitive. Great athletes have unshakable faith in themselves before anyone else believes in them, and that is her."
Along with being a stellar athlete, Katiana also was involved in a law enforcement explorer program since 2018. Williams plans to become a cop in the future, "I want to do what I can to help people," said Williams. 
Gabriella Martinez, one of Katiana's closest friends, describes her as an older sister, "she inspires me to become a better person …. she carries herself with such confidence …. and loyalty and love," said Martinez.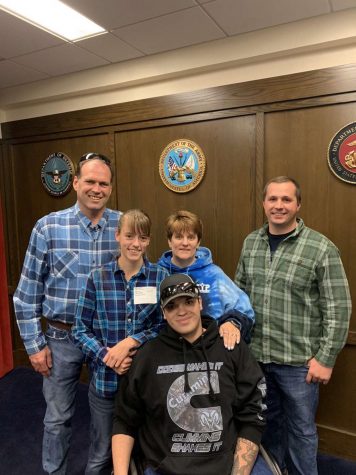 One of Martinez's favorite memories with Williams was at her senior night for softball, "that was the last game I will ever play with [her]. I had the honor to …. present her gifts and walk as her little sister. I will never forget giving her that hug that brought tears to my eyes and filled my heart [as I]  watched her take the next steps into her future."
Katiana Williams not only succeeded in the softball and track field, but she also has a very apparent impact on coaches and fellow athletes outside of the field. Needless to say, Katiana Williams has left her mark at Rangeview High School as a successful student athlete with a bright future in law enforcement.